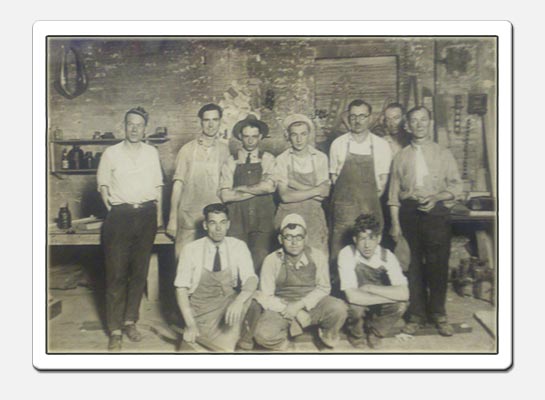 Tips for Installing Your Band Saw Guide
Follow these instructions when installing your Paddock Tool Co. Inc.'s band saw guide for optimal performance and support. We stand behind the craftsmanship and quality of all our products. Place your order with us today!
Steps for Adjusting Blade Width Thickness and Alignment
1. Secure thrust wheels using wing nut on side (thumbscrews on Model 20). Leave room between blade and thrust wheel for following adjustments.
2. Set guide so that blade is aligned with grooves in thrust wheel on models 10 and 20; align with center of bearing on model 0. (On Models 10 and 0, upper guide may be aligned by rotating top guide shaft, the lower guide by adjusting lower guide bracket. The model 20 guide is aligned by adjusting upper and lower brackets.)
3. Adjust guides forward on shaft until front edge of side bearings are just behind blade tooth gullets. Lock guides in place.
4. Set side bearings close to blade without binding. (Correct blade clearance may be obtained by placing strips of paper on both sides of blade while pressing side bearings together.) Lock bearings in place by tightening cap screws.
5. Set thrust wheels within 1/64″ of blade. Lock in place by using two wing nuts (thumbscrews on Model 20) on each side of body casting. On Models 10 and 0 BE SURE TO FIRST TIGHTEN WING NUT ON SIDE MARKED "LOCK FIRST," as the special design of the center shaft locks center ring of thrust wheel in place so that the wheel runs on bearings and not on shaft.
6. Readjust guides as necessary to maintain these settings.
Retrofitting Our Guides
Our band saw guides can be retrofitted onto any vertical band saw. We have several special brackets available for adapting our models onto a number of brand name saws. Please provide the model, make, and size of your band saw when ordering so we can determine the best model for your needs.
Brands We Have Retrofitted With Our Guides
American
Boise Crane
Bridgewood
Craftsman
Continental
Dake
Do All
Davis and Wells
Duro
Fay & Egan
Forrest
Jones Superior
Jet (Large)
Kalamazoo
Laguna
Northfield
Oliver
Powermatic
Rockwell Delta
Sentauro
Tannewitz
Walker Turner
Yates American
Contact
paddocktool@gmail.com
Tel: 913-621-3234
Fax: 785-670-8435
Hours
Mon - Fri: 8am - 5pm
Sat - Sun: Closed
Payments 
Credit Card, Paypal, Cashier's Check, Money Order, C.O.D., etc.